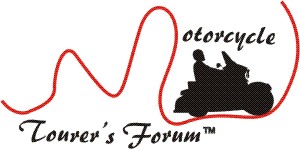 Destination Hyder!
Hyder, Alaska
May 18-24, 2015
Memorial Day Weekend

---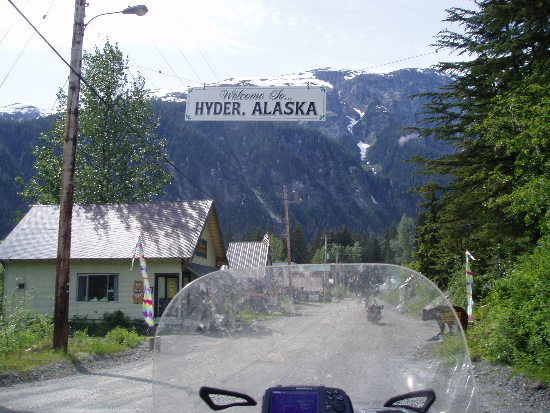 Destination Hyder!... Join the Long Distance Riders or Flower Sniffers in beautiful Hyder, Alaska!!
Join the Long Distance Riders or Flower Sniffers in beautiful Hyder, Alaska!! LD riders will have 5 ways to get there: SS2000, SS3000, SS4000 or Hyder to Hyder 2.4

Donít want to bust your butt getting to Hyder? Have too many IBA patches and certificates already? Or just want a nice, relaxing ride? Join the Flower Sniffin' Committee for their rolling event from Great Falls, MT, through Calgary and up the Icefields Parkway.
---
Click the buttons below for more information
---
Follow the riders on SpotWalla
https://spotwalla.com/locationViewer.php?id=270
---
To join the SpotWalla page go to:
---
Hyder Schedule

NOTE: All meals will be on your own, there will not be a group meal
ATTENTION RIDERS!:

Despite the best efforts of the residents of both Hyder, AK and Stewart, BC, the Canadian government has remained firm in its position to close the border between the two towns from midnight to 8 a.m. every day, a policy implemented April 1st, 2015.

For those with lodging in Stewart, remember that the border is closed both directions at midnight!
---
Hyder, AK Host Hotel


Sealaska Inn & Camp Run-A-Muck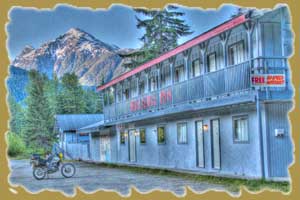 http://www.sealaskainn.com/hotel.html
Our host hotel in Hyder, AK will be the Sealaska Inn, with Michele Benedict as Proprietor and gracious host.
Note: Lodging is limited in the Hyder, AK area Ė you may want to ensure you have a place to stay before committing to one of these rides.**
Alternate Lodging
Anne's Guest House
Box 141 Hyder,
AK 99923-0141
Telephone: 250-636-9194
Border Bandit Bed & Breakfast
? Hyder, AK 99923
Telephone: 250-636-2317?
Grand View Inn
P.O. Box 49
Hyder, AK 99923
Telephone: 250-636-9174

Kathy's Korner B&B
505 Main St.
P.O. Box 42
Hyder, AK 99923-0042
505 Main St.
Telephone: 250-636-2393
Oceanview Guest House
(in Stewart, B.C.)
1275 St. Matthews Ave.
Winnipeg, Manitoba, Canada R36 OK3
Telephone: 204-275-6666
Email: reservations AT stewartguesthouse.com
Website: www.stewartguesthouse.com
King Edward Hotel
Stewart, BC
http://www.kingedwardhotel.com
Ripley Creek Inn
http://www.ripleycreekinn.com/
Salmon Glacier B&B
803 Brightwell St,
Stewart, BC V0T 1W0
(250) 636-2136
http://www.salmonglacierbb.com


Glacier Adventures and B&B
803 Brightwell Street
Stewart, BC V0T1W0
(250) 636-7238


---
[ MTF Home ] [ Forum Guidelines ] [ MTF Merchandise ] [ MTF Calendar ]
[ MTF Tourer's Assistant ] [ MTF Emergency Tags ] [ MTF Commision Program ]
[ MTF Honors Page ] [ Touring Links ] [ Photo Album ] [ MTF Logos ]
[ MTF Business Cards ] [ MTF Gold Dealers ] [ MTF Past Events ]
---
Copyright © 2001-2015 Motorcycle Tourer's Forum. All rights reserved.
For Questions or Comments about this site contact the Motorcycle Tourers Forum.