---
Host Lodging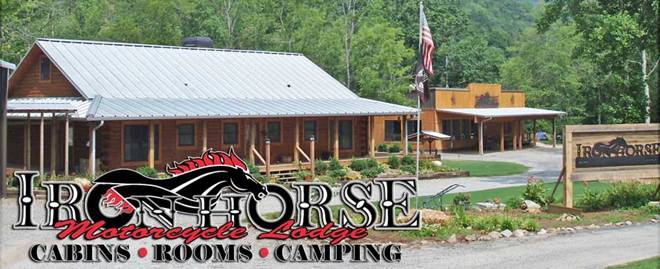 Iron Horse Lodge

1755 Lower Stecoah Road


Stecoah, NC 28771
828-479-3864


GPS: N 35 22.971 W 83 40.832

YOU MUST REGISTER FIRST WITH MTF before make reservations at Iron Horse Lodge.

This applies to all events: Flower Sniffin', Rough Road Ride, and Founders Feast

Follow these steps to make reservations:

1. Register for the event in Ride Master.

2. Receive Personal Code via email from Don Norwood.

3. Contact Iron Horse to make reservation.


(You will need to provide your Personal Code to Iron Horse)

Reason for Personal Code: Iron Horse is a motorcycle only resort and campground. Therefore, everyone that calls for a reservation is a motorcyclist. MTF has a block on the rooms, cabins and RV spaces. In order to confirm that you are with the MTF, you will need to provide your Personal Code to make a reservation.

When Iron Horse fills up, we will announce other motel options in the area.
Types of lodging available:
· Share a cabin, several have private baths
1-3 room cabins all with private baths

One 6 room cabin all with private baths

Other cabin rental options. (New cabins completed in 2010)

Share a semi-private cabin, 4 rooms with 2 baths

Lodge rooms with private baths

Bunkhouse with use of separate bath house

Laundry facility

Covered bike areas

Bike wash

Coolers and ice available

Billiard table, yard games

Wi-Fi available in main lodge

Nightly campfire and porch rocking chairs looking out over the running creek.
RV and Camping Options are available on location at Iron Horse
· 110v and water, RV sewage drop point
· Tent rental available
---
Area Restaurants/Cafes
Tellico Grains Bakery http://tellico-grains-bakery.com/

The Jukebox Junction Café http://www.jukeboxjunctioneat.com/default.asp
Intersection of Hwy 276 and 215 (6306 Pigeon Road, Canton, NC)
On the Blue Ridge Parkway (408 Blue Ridge Parkway, Brevard, NC)
Hwy 28, NW of center of Town (498 Harrison Ave, Franklin, NC 28734)
Just good ole country cooking, but no credit cards accepted. Bring cash and appetite.

Local Sights, Attactions & Oddities
Stecoah Valley Center http://www.stecoahvalleycenter.com/
Great Smoky Mountain Railroad http://www.gsmr.com/about/schedules.php
Never ridden on a train? Here is your chance to take a scenic train ride.

The Great Smoky Mountain Railroad ...Bryson City NC 25 minutes from Iron Horse.
Ride the Road to NoWhere
The Road to NoWhere is a very scenic and colorful road with an equal colorful history.

Maps and directions available at lodge.
Joyce Kilmer National Forest http://www.main.nc.us/graham/hiking/joycekil.html
Cherokee National Forest http://www.tellico-plains.com/cherokee.html
Foothills Parkway
http://www.theblueridgehighlander.com/scenic_drives/tennessee/foothills_parkway
Cherohala Skyway – A "must-ride" scenic byway! http://www.cherohala.com/
The Blue Ridge Parkway– Iconic "must-ride" scenic byway!
Forest Heritage Scenic Byway
http://www.theblueridgehighlander.com/scenic_drives/north_carolina/Forest-Heritage-National-Scenic-Byway/index.html
Newfound Gap Road http://www.theblueridgehighlander.com/scenic_drives/north_carolina/newfound_gap/index.html
Personal warning: This is 441 hwy from Cherokee to Gatlinburg, 90% of all tourist that come to Smoky Mountains take this road...so bumper to bumper, stop and go, stop and go....and if someone sees a bear....your be there awhile....
Cades Cove Loop
http://www.smokymountainnavigator.com/index.asp?mid=69&mid2=193
Appalachian National Scenic Trail (The A.T.) http://www.nps.gov/appa/
There will be several AT crossing in our venue area … Hwy 76, Hwy 143, Fontana Dam, Hwy 28, and many gravel road.
Fontana Dam and Visitor's Center http://www.tva.gov/sites/fontana.htm
Cherokee Indian attractions http://www.cherokee-nc.com/index.php?page=120
Wheels Through Time Motorcycle Museum http://www.wheelsthroughtime.com/
Maggie Valley, NC
Murphy, NC
Webb Brothers Store (Store, Fuel) http://www.webbbros.com/
Webb Brothers Store since 1936 is located in Reliance, TN on Hwy 30.

Gas, snacks, restroom, post office in store, located on the Hiwassee River.

Hwy 30 down to Hwy 64 Ocoee River Gorge is nice challenging ride.
REST AREA http://wikimapia.org/12132346/Rest-Area-US-19-74-129-Andrews-NC
Hwy 19-74-129, Andrews, NC

This is the cleanest rest area I have ever seen ... restrooms are well maintained and full staff on duty. Picnic tables, large parking lot, shade trees, creek area
Smoky Mountain National Park
http://en.wikipedia.org/wiki/Great_Smoky_Mountains_National_Park
Mountain Waters Scenic Byway
http://www.westernncattractions.com/attractn/mntwater.htm
National Park Tour Ink Stamps
This area offers many stamps in a three state area.

Smoky Mountain National Park,

Blue Ridge Parkway,

Chief Junaluska Memorial in Robbinsville (steep grade, caution),

Cherokee Visitor's Center in Cherokee,

More information at the event
Motorcycle Dealer/Shops
Tellico Outfitters, Tellico Plains, TN
http://www.tellicomoto.com
*Mention "MTF at Iron Horse" for special pricing.
Other websites of interest
http://www.ironhorsenc.com/maps_wnc.html
http://www.westernncattractions.com/roadto.htm
http://www.greatsmokies.com/roadnowhere.html
http://www.tailofthedragonmaps.com/ (maps)
http://www.tailofthedragon.com/ has many links and tons of information.
Local Movie Trivia
The Fugitive (1993)
The train scenes were filmed in Dillsboro, North Carolina. The engine used (which was not destroyed) now pulls a dinner train. During a ride on that train, props from the making of the film can be seen, including the prison bus and the shell of the engine that crashed into the bus. Dillsboro is next to the town on Sylva, NC where the local hospital was used for filming the hospital scenes in the beginning of the film and the ambulance get-away.
The dam used in the exterior shots is Cheoah Dam, Tapoco, Graham County, North Carolina, USA. The dam can be viewed clearly from North Carolina State Highway 129, just north of the town of Tapoco, NC.
---
The MTF reserves the right to limit participation for any reason.
---
[ MTF Home ] [ Forum Guidelines ] [ MTF Merchandise ] [ MTF Calendar ]
[ MTF Tourer's Assistant ] [ MTF Emergency Tags ] [ MTF Commision Program ]
[ MTF Honors Page ] [ Touring Links ] [ Photo Album ] [ MTF Logos ]
[ MTF Business Cards ] [ MTF Gold Dealers ] [ MTF Past Events ]
---
Copyright © 2001-2011 Motorcycle Tourer's Forum, Inc. All rights reserved.
For Questions or Comments aboTX this site contact the Motorcycle Tourers Forum, Inc.