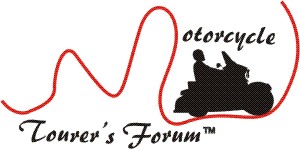 IBA Party Ride-In
March 3-7, 2008

---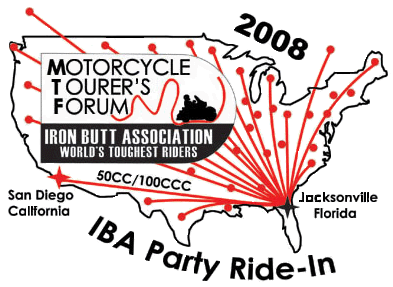 How are you getting to the 2008 IBA Party?

Have you considered riding an IBA ride to the party? The IBA is teaming up with the Motorcycle Tourer's Forum again to make the 2008 IBA Party bigger and better. The MTF is sponsoring the IBA Party Ride-In where any rider may:



Ride a SS1K, SS2K or BB1500 IBA ride starting from anywhere and ending in Jacksonville

Ride a 50CC* starting in San Diego and ending in Jacksonville

Ride a 100CCC* starting in Jacksonville and ending in Jacksonville



For riders choosing to ride their own ride to the party, the MTF will offer end witness services in Jacksonville. For all riders, the MTF will offer validation services in Jacksonville. If your ride passes validation, we will submit your ride to the IBA for certification. To make the process even easier for all riders, we will accept and make a copy of your paperwork in Jacksonville.

In years past the IBA Party has been restricted to IBA members only, but this year it's open to all IBA members as well as Ride-In participants. Seats for the party are restricted to only those who are registered. These tickets will go quickly so please click the "IBA Party Details" link in the menu above and secure your IBA Party reservations as soon as possible. You can register for the Ride-In by clicking the "Register" link.

One way or another, we hope you decide to join the party in Jacksonville. Mike and Lisa have organized another great party!

You must register for the IBA Dinner seperately, details will be posted on the IBA Party Details page as soon as they are available.


---
Event Manager & Ride Coordinator
Mark Campbell
Email: camelmd@yahoo.com


---
West Coast On-Site Coordinator for 50CC/100CCC:
Lowell Vahl
---
MTF's Long Distance Ride Philosophy
Group riding typically refers to large groups of bikes riding together in a pack. MTF Long Distance rides are not "group rides." Rather, each ride is a "mass ride." Mass ride is a term coined and used in the long distance community and refers to a ride where all riders start from the same location, begin at roughly the same time, follow the same route and end the ride at the same destination.
For various reasons the MTF does not encourage groups of more than three riders while particpating in an MTF Long Distance event. The major reasons deal with safety, but in the end, each rider makes his/her own decision to ride with others or not. If you're riding with others, here are some things to consider:
Set expectations up front. Discuss fuel ranges, stop times, food stops, speeds, etc. Will your fuel stops be "splash and dash" or "fill and chill"?
What happens when someone breaks down? While being on the side of the road sucks, remember the people with you and what it must feel like for them. If your safety is not in jeapordy, will the other riders carry on?
If riding with others isn't working out, don't be afraid to wave them off and carry on at your desired pace rather than allow yourself to get frustrated. In the end, each rider is responsible for their own ride. In the words of an LD rider, "Everyone gets tired at different times, or gets hungry or even has to pee at different times. It's YOUR ride and it really isn't much fun when you are sitting on the side of the road waiting for your riding partner who is taking a quick nap."
---
The Motorcycle Tourer's Forum reserves the right to accept or reject a rider's request to participate in this ride.
---
[ MTF Home ] [ Forum Guidelines ] [ MTF Merchandise ] [ MTF Calendar ]
[ MTF Tourer's Assistant ] [ MTF Emergency Tags ] [ MTF Commision Program ]
[ MTF Honors Page ] [ Touring Links ] [ Photo Album ] [ MTF Logos ]
[ MTF Business Cards ] [ MTF Gold Dealers ] [ MTF Past Events ]
---
Copyright © 2001-2008 Motorcyle Tourer's Forum. All rights reserved.
For Questions or Comments about this site contact the Motorcycle Tourers Forum.