---
Event Coordinator
Alan Leduc
Email:
Alan Leduc
---
Safety

In addition to requiring the use of a DOT approved helmet during all MTF events, the MTF strongly encourages the use of Motorcycle specific protective clothing and footwear while participating in any MTF event. ATGATT reduces the severity of injuries in an accident and we want every participant in our events to be as safe as possible. Also the MTF strongly encourages each participant in our events to self assess their riding style, interests, need for breaks and riding skill level and to keep that assessment in mind when choosing a riding partner or small group (2-4 riders) to ride with at our events. Sharing the road with someone of similar interests and riding style not only makes the ride more enjoyable for you, but safer for everyone.
---
Event Schedule & Information
Date
Time
Activity & Notes
Thursday September 20th
6:00pm - 8:00pm
Early Bird Burgers and Dogs at the Leduc's

Address: 251 Midway Drive. (Most maps are wrong)
- Take State Road 3 (Memorial Drive) to Midway (Speedy Gas Station on
Northwest corner) and turn west.
- It's the third house on the South side. I'll park a bike in the driveway.

Friday
September 21st



Day
Local Riding
- Click here for recommended routes
8:00pm - 11:00pm
Socializing at the Host hotel - Raintree Inn


Note: the hotel has a cash bar,
No outside alcohol is allowed in the public areas of the hotel.

Saturday
September 22nd






Morning

- Start 8:30 a.m.
- Finish by 12:00 p.m.
Pistol Shooting Competition - Location:

25 and 50 foot combined, Slow (untimed) Bulls Eye Shooting.

Two rounds of five shots at each distance will be totalled. (20 shots total)
Top qualifiers will go a second volley of two rounds at each distance.

** You are responsible for supplying your own pistol (any size)
and ammunition and for getting it to the location legally. **

Afternoon
- Start time is promptly at 1:00p.m.
** Drivers should be there at Noon
- Finish around 5:00 p.m.

Go Kart Racing
6:00 pm
Founder's Feast & MTF Awards Banquet
- Location: Go Kart Track
- Dinner will be BBQ Pork & Grilled Chicken - Cost $25/pp

Sunday
September 23nd
All day
Depart for points unknown
---

Go Kart Racing - Saturday

New Castle Motorsports Park has a premier facitlity for the Motorcycle Tourers Forum's Founders Feast. It is located less than a mile from the New Castle exit south of I-70 and is very accessible. Note: the road off the highway and the parking lot are hard pack gravel. NCMP is a 50 acre complex with over 5000 sq.ft. of meeting area, including a full service restaurant and bar.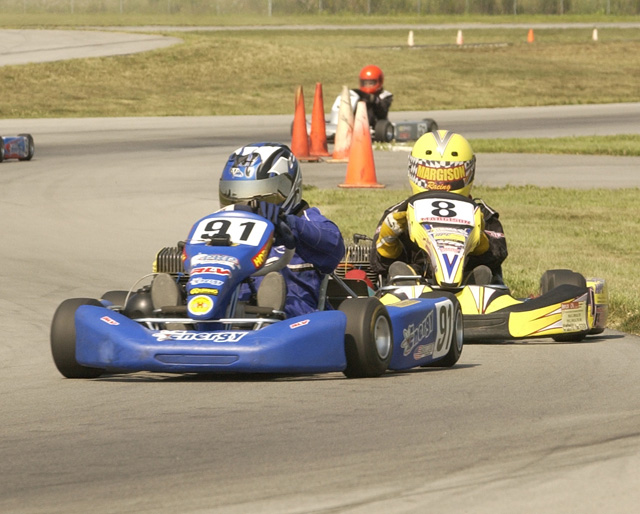 NCMP has the fastest rental karts in the country reaching speeds of 45-50 mph! The karts coupled with the challenging track will make this an experience you won't forget!

Racing will start out with a round of practice for all competitors. After practice, the pre-finals will begin where pre-determined groups will take to the track. Top finishers (exact number to be determined by the size of your group) from each of the pre-finals advance to the Race of Champions.Those who do not advance to the Race of Champions will try their hand at the Last Chance Race. The top finishers in the Last Chance Race will advance to the Race of Champions. The top three finishers of the Race of Champions are presented key chains reflecting their finishing position and a copy of their podium picture. Timing and scoring shees will provide a printout so you can compare your lap times to everyone else.

Cost: $85.00 per person - Note: This fee is seperate from the MTF Founder's Feast Registration
If you don't want to race, come out and cheer for your friends!
---
Founder's Feast & Awards Banquet
The Founder's Feast will be held at the New Castle Motorsports Park. Dinner will be served at about 6:00 p.m. The MTF's Annual Award Banquet will follow dinner.

Menu: Pork BBQ, Grilled Chicken, Buns, Baked Beans, Cole Slaw, Potato Salad, Jalapeno Peppers, Canned Coke Products Cheese Cake with Toppings Cost: $25.00 per person
---
Suggested Local Riding Routes
All Routes are contained the MapSource file: FoundersFeast.gdb

Route A - Chicken

Route B - 421 Twisties

Route C - River Ride

Route D - Nashville Loop

Other Places of Interest in the area:

Local Restaurants:
We have all of the fast food chains. Alan only eat at Bills Diner (family still cooking and plate sized Breaded Tenderloins) and Los Amigos in the Kroger Mall. Both are south on Indiana 3 from the Raintree Inn.
---
Host Hotel
Raintree Inn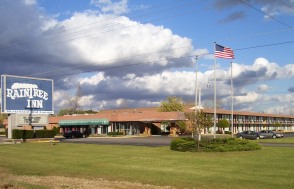 Raintree Inn
2836 South State Road 3
New Castle, IN 47362
Telephone: 765-521-0100
Website: http://raintreeinnnewcastle.com/index.cfm
Email: reservations@raintreeinnnewcastle.com
Founder's Feast Arrival Date: 9/20/2011
Checkout Date: 9/23/2011

---
To reserve rooms, call the hotel and ask for the "MTF Room Block".
You will need to provide a credit card number to reserve a room.
Room Rates:
Interior Area $65.00 + Tax;