---
Safety



In addition to requiring the use of a DOT approved helmet on all MTF rides, the MTF Flower Sniffin Committee strongly encourages the use of Motorcycle specific protective clothing and footwear while participating in any Flower Sniffin event. ATGATT reduces the severity of injuries in an accident and we want every participant in our events to be as safe as possible. Also the MTF Flower Sniffin Committee strongly encourages each participant in our events to self assess their riding style, interests, need for breaks and riding skill level and to keep that assessment in mind when choosing a riding partner or small group (2-4 riders) to ride with at our events. Sharing the road with someone of similar interests and riding style not only makes the ride more enjoyable for you, but safer for everyone.
---
Event Schedule & Information
Schedule
The ride is scheduled June 13th - 17th with nightly gatherings for meals at locations yet to be announced.
June 13th - Arrive - Dinner at 6:00 pm, location TBD
June 14th, 15th, 16th - Local Rough Road Riding and Flower Sniffin'
June 17th - Depart for other points unknown
T-Shirts
This year's Flower Sniffin' shirt is better than ever! It will be red 6.1 oz high quality cotton, with new 2010 Flower Sniffin' artwork as shown to the right and will be offered in both long and short sleeve, with or without a chest pocket. See registration page for pricing.
Forum Discussion
A discussion about the Finger Lakes ride has been started on the MTF that may also be of interest. The discussion can be found at: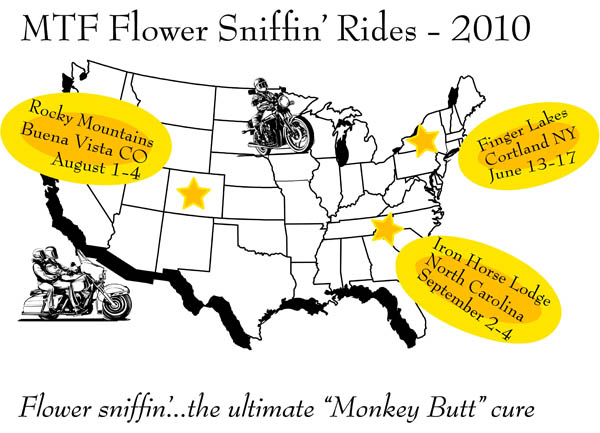 ---
Host Hotel
Econo Lodge
10 Church Street
Cortland, NY


Telephone: (607) 756-2856

Website: Econo Lodge - Cortland, NY

Arrival Date: 6/13/2010
Checkout Date: 6/17/2010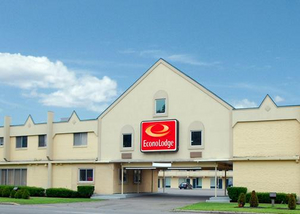 Number of Rooms/Types: smoking and non-smoking rooms with:

Two doubles
One king
Four rooms with two queen beds

Best Available Group Rate, Per room, Per night:

$59.45 /1 person, $59.45 /2 persons for the doubles or kings
$66.25/1 person, $66.25/2persons for the double queens
Note: $ 10.00 /extra person charges. Tax: 13%