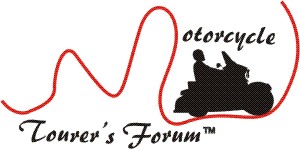 50CC/100CCC
April 2004

---
One World Record was set on this ride.
The 50CC EW Riders
set a new record of
23 Riders for a 50CC Quest
John Neidenbach, Randy Neidenbach, Jim Cottingham, Mike Fleming, Jim Reese, Jack Dodds, Dewayne Harkov, Tom Strike, John L. Juelfs, Gregory C. Wolfe, Max McCart, Howard Horstman, Terry E. Watson, Thomas J. Dover, John F. Wendorf, Marcella Newell, Timothy R. Yow, Steve Gunn, Juli Davis, Donald Fitzgerald, Carl Furry, T.J. Roberts Jr., Fletcher Clark
See bottom of page for details regarding the World Record.
50 CC Quest - Cross Country in Less than 50 Hours
100CCC Gold - Back to Back 50CC Quests
As of August 30, 2002, only 208 riders had completed the 50CC Quest or the 50CC Quest Gold
and as of May 2, 2002, only 44 riders had completed the CCC Gold.

This ride was organized by the Motorcycle Tourer's Forum at the request of its members to repeat the successful 2002 & 2003 Motorcycle Tourer's Forum 50CC/100CCC rides where numerous participants completed the 50CC and the 100CCC. Although the trip was organized as a "group" ride, riders rode individually and joined with other riders at the end to celebrate.
| | |
| --- | --- |
| 50CC EW | 23 Riders Completed the Ride |
| 100CCC EWE | 22 Riders Completed the Ride |
| 50CC WE | 4 Riders Completed the Ride |
| 100CCC WEW | 4 Riders Completed the Ride |
| | |
| --- | --- |
| | CCC Gold (100CCC) is back to back 50CC Quests |
Trip Philosophy
A quote from an LDRider will be used as the philosophy for the Motorcycle Tourer's Forum 50CC/100CCC Iron Butt Association Ride: "Everyone gets tired at different times, or gets hungry or even has to pee at different times. It's YOUR ride and it really isn't much fun when you are sitting on the side of the road waiting for your riding partner who is taking a quick nap."
We will be leaving in small groups of 3 or 4. Riding in a pack would not be safe. We will celebrate together at the conclusion of the trip.

Whether you continue to ride as a group once you are on the road is up to you. If you find that your habits are not compatible with the group, simply wave off. It is nothing personal. In addition to the problems mentioned above, the group may have different attitudes about driving speeds. If you are tough enough to do a 50CC, you should be tough enough not to yield to the pressure of the group to conform.

If you break down, or need an unscheduled stop, the group will go on without you. You may be able to solve your problem and move on given the allotment of time for problems and traffic. However, if another member of the group had a problem, the whole groups trip could be in jeopardy. This simply would not be fair.
---
The World Record
---
Previous 50CC Group World Record - 15
Motorcycle Tourer's Forum March 2004 Jacksonville to San Diego
(Duane Carpenter, Will Crain, Lynn Endsley, Peter Icaza, Ken Jimenez, Richard Knipe, Rich Kuechenmeister, John Langan, Kevin Lechner, Richard Matthews, Brian Roberts, Bruce Simpson, Robert Shelton, Al Wegleitner, Chuck Wilkins)
---
Current 100CCC Group World Record - 26
March 2003 Jacksonville to San Diego to Jacksonville
Will Allender, Don Braziel, Rocky Brown, David Bruischart, Richard Buber, Gregg Burger, Art Garvin, Michael Glass, Bruce Harris Jr., Steven Hebert, Ulrich Hermeler, Dave Hinks, Chuck Huber, Jason Jonas, Victoria Juodenaite, Alan Leduc, Greg Martin, Ron McNary, Jeff Miller, Bob Moore, Wally Nichols, John Oravec, Jon David Power, Gerald Roberts, Gary Schaefer, Bill Wade
---
The group record was determined in the most conservative fashion as described below.
The group world record, requires that riders start and leave at the same points. Therefore for the 100CCC ride, the EWE group and WEW group were not combined to set the record.
The IBA web site states: On a CCC GOLD ride a rider may submit documentation for the CCC GOLD ride OR up to two 50CC rides, but not both." Therefore only the group 50CC group record did not include riders who performed the 100CCC ride.
---
Trip Memento
Each person participating in the MTF 50CC/100CCC Iron Butt Association Ride received a memento of the ride.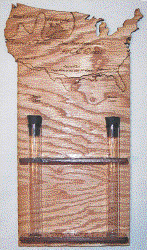 ---
Alan Leduc, Host and Founder of the Motorcycle Tourer's Forum reserved the right to accept or reject a rider's request to participate in this ride.
---
[ MTF Home ] [ Forum Guidelines ] [ MTF Merchandise ] [ MTF Calendar ]
[ MTF Tourer's Assistant ] [ MTF Emergency Tags ] [ MTF Commision Program ]
[ MTF Honors Page ] [ Touring Links ] [ Photo Album ] [ MTF Logos ]
[ MTF Business Cards ] [ MTF Gold Dealers ] [ MTF Past Events ]
---
Copyright © 2001-2004 Motorcyle Tourer's Forum. All rights reserved.
For Questions or Comments about this site contact the Motorcycle Tourers Forum.