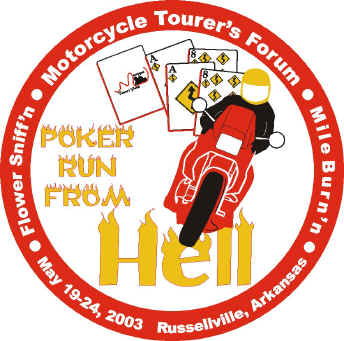 In March, 2002 several members of the MTF met to ride the Natchez Trace. A great time was had by all and there was some talk about having an annual ride. In May, 2002 several members of the MTF participated in what was called the MTF 50CC/100CCC Iron Butt Association Ride (http://www.bsu.edu/web/00amleduc/mtf/50cc/50cc.htm ). The ride was very successful with 9 riders completing the 50CC and 2 riders completing the 100CCC. Again there was some discussion of having an annual MTF Endurance ride. Yogi (Tom Maiden) suggested the concept of an MTF Poker Run from Hell which would consist of five consecutive 1000 miles rides. As the concept developed, it was decided that we should also offer Flower Sniff'n rides as well, so that all of the MTF members could participate together. After much discussion the MTF Poker Run from Hell, has become a reality.
Russellville, AR was chosen as the event location and the event was held May 19-24, 2003. May 19-23 were riding days and a banquet (lunch) was held on Saturday, May 24.
This event brought together both Endurance Riders and Flower Sniffers. Riders had the daily choice of rides to match their desires:
Flower Sniffers: These riders just made their own route, went at their own pace, and enjoyed the wonderful Arkansas roads.


Power Sniffers: This was a new term coined after Jason Jonas' proposed Flower Sniffin rides seemed to have too many miles. Daily a group of riders started out. As Jason pointed out, he was not leading, the other riders were following. If you couldn't or didn't want to keep up or if you missed a turn, then you created your own group. It was very different approach but one that seemed to work very well. Click below for details on the Flower (actually these are the Power) Sniff'n rides.

Talimena Scenic Byway - This route will take us southeast to Mena, the Skyline Cafe and the Talimena Scenic Byway. If you've never ridden the Talimena, this is a good route. We'll be riding it twice. :)

The Pig Trail - This route will take us north into Missouri and west over to the beginning of highway 23. We'll ride 23 from the Missouri/Arkansas border to I-40 where we'll pass through the famous and magical Pig Trail.

Push Mountain Road - This route takes us north to the beginning of highway 14 and southeast to Push Mountain Road. PMR has been termed as Arkansas' Tail of the Dragon. I try to find an excuse to run this area everytime I go to Arkansas. PMR alone is worth a trip to Arkansas. We'll also ride a stretch of highway 9 that is simply amazing and a must-do stretch of road for anyone on two-wheels.

Little Misery - This route will take us north into Missouri for a little ride through the Mark Twain National Forest and east along 160 then south to Mountain Home, Arkansas where we'll ride PMR and head for Russellville. This also happens to be the longest route too. So it's called 'Little Misery' for a couple of reasons. I'm thinking about running this one on Wednesday. :)

Country Roads Tour - This route will take us along some nice meandering country roads southeast and northeast of Russellville. There will be some good opportunities for taking some great pics of old barns, buildings and such. Just a nice, liesurely stroll through the country.
The MTF received approval from Mike Kneebone of the Iron Butt Association to validate your rides. We will be doing this by:

requiring an odometer check before participating in the 1000 mile rides

requiring riders to participate in the route planned for that particular day

requiring riders to make mandatory fuel stops
At the end of each 1000 mile ride the mileage was validated to be consistent with the planned route. Based upon this validation, riders were provided an MTF Certificate for each 1000 mile ride completed. If the riders wanted the ride certified by the IBA, they were to copy the certificate and use it as documentation in lieu of the traditional documentation, i.e. gas receipts, etc.
Did We Have A Good Time?
Mike and Paige Cobb: Paige and I had a great time and did what we consider a fair amount of riding on some great roads ('a fair amount of riding' obviously varies amongst even the Flower Sniffers, much less the Dark Siders). Mike and I enjoyed every bit of our flower sniffin miles. Mike and I enjoyed every bit of our flower sniffin miles.Here is a typical sign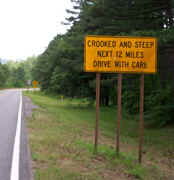 Joy Trexler-Carr: I had a great time and loved the challenge, and will do it again. It was a great gathering, and I enjoyed the rides immensly.

Tom Nichols: I had a great time and loved the challenge, and will do it again.

Bo Griffin: Exhilarating! That's right, this run was wonderful and I had a great time!

Randy Chom: I completed the SS5000 with my brother-in-law. We had a GREAT Time.

Dave Nelson: I managed two back-to-back SS1K's, plus some sniffen. When I got home tonight, I roughly calculated around 4600 miles since last Sunday. Immediate plans are shower and bed. This was a well organized and run event, and I look forward to another next year.

BJ Ondo: Wow, the PRFH was a "BLAST" to say the least. The routes where fantastic. Colorado may have "better views" but man AR has roads that make you see your headlight and tailight at the same time.

Jim Fortner: Had a great time at the PRFH!! I enjoyed the time spent with everyone as well as the solitary rides.

Steve Spurlock: Had a great time in Arkansas. Had to cut it short and head back early, but the riding there was fabulous. It was great putting faces with the names.

Dennis Wynne: I could only be there for a couple of days, but I had a great time.

Tom Maiden: This was one of the best trips I have made and I sincerely hope it turns into an annual get together as the riding there was just great and to be able to meet some of the people here was even better.Couldn't have asked for better rides The Ozarks are definitely high on my list of places to revisit..

John Hargis: We had a wonderful time and look forward to more riding with the MTF bunch.

Lou Canick: A great few days away and some fantastic riding in Arkansas! I'm ready to go back anytime!!

Successful Endurance Riders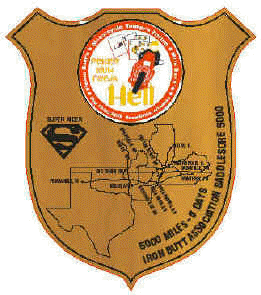 Riders completing all five 1000 mile rides, thus completing the Iron Butt Associations SaddleSore 5000 were awarded the special momento shown above in addition to the MTF certificates.
SaddleSore 5000 Finishers
Greg Burger
Randy Chom
Bob Elliott
Bo Griffin
Dave Hinks
Dennis Powell
Dave Shealy*
Doug Woodall
* Dave Shealy added 2000 miles to the front end and 3000 miles to the back end and successfully completed 10,000 miles in 10 days.
The following riders also had successful 1000 mile rides:

Ollie Bingeman - SaddleSore 3000
Jeff Miller - SaddleSore 2000 and SaddleSore 1000
Dave Nelson - SaddleSore 2000
John Beck - SaddleSore 1000
Doug James - SaddleSore 1000
George Loudder - SaddleSore 1000
Randy Meyers - SaddleSore 1000
Special Awards
There were five special momentos awarded to Flower Sniffers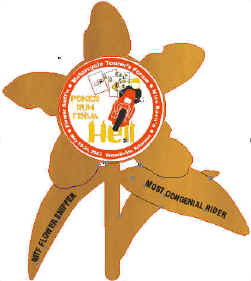 The Lazy-Sniffer - This was awarded to the flower sniffer that had the lowest number of miles but road at least 175 miles each of the five days. The winner of this award was Mike Cobb with 1319 miles.


The Darkside-Sniffer - This was awarded to the flower sniffer that has the most miles for each of the five days without doing any of the 1000 mile rides. The winner of this award was Alan Leduc with 2023 miles.


The Most Congenial Sniffer - This award was presented based upon a silent vote. The winner of this award was Tom "Yogi" Maiden.


The Cleanest Bike Award - The winner of this award was Joy Trexler-Carr.


The Dirtiest Bike Award - The winner of this award was Jason Jonas.
PRFH POT
The PHFH Pot totaled $500. Each participant was given a deck of cards to shuffle. They were then asked to pass the deck on to the person on their right.
Monies collected for the PRFH Pot were split as follows:

Highest Poker Hand - $250

Second Highest Poker Hand - $100

Third Highest Poker Hand - $75

Fourth Highest Poker Hand $50.

Fifth Highest Poker Hand - $25

Poorest Poker Hand received a quarter pounder left over from the Indiana Cookout and all of the penalty monies received from riders who had not completed 175 miles per day. The penalty hand was worth $65.00. Hmmm. Each penalty day was $10, did someone leave a tip?
The PRFH Slow Race
Registration in the PRFH qualified each rider for PRFH Slow Race. This wasn't be just any slow race, but a slow race from HELL. The original layout was as shown below with the addition of a 50 foot by 3 foot wide lead-in and exit making the entire course about 188 feet.
After laying out the course and making a few trial runs, it was evident that this was just too tight so the box was resized to 35 x 60 and the 50 foot exit was eliminated.
Riders were given about a 10 foot rolling start before their official time started. Riders were penalized 10 seconds for each time they put their foot down and for each time they touched the boundary with the front wheel. Judges Don Braziel and Joy Trexler-Carr had the option of assessing a penalty for stalling.
The winner of the Slow Race was Bob Moore with a time of 121.69 seconds. To put this in perspective, the second place rider Ollie Bingeman has a time of 81. seconds and the time dropped quickly from there. Looks like in future slow races Bob will be placed in the Expert Class.
In wasn't in the plan but I think it started by a comment from Don Kime that he was going to win the Three-up class with Barb and his dog Maddy which was riding in a carrier mounted to the trunk lid. Well we didn't have a Three-up class but we did have a two up class for each couple that had registered. The winner of the Two-up Class was Ron and Pat Brown with a time of 23.75 seconds.
The winners of the slow race received a Blue Denim Shirt embroidered 2003 MTF PRFH Slow Race Champion.
Mason Dixon 20/20 Bonus Location
Rick Miller and Alan Leduc plotted to provide and interesting bonus for the 48 hour Mason Dixon 20/20 riders. After riding to Russellville from the start of the Rally at York, Pennsylvania (the direct route is 1138 miles), riders were required to participate in the slow race to receive their bonus points. Alan was more devious as he wanted to make it a variable bonus depending on the placement of the riders in the slow race. However, Rick decided to be a nice Rallymaster and provided the following notation in the Rallybook
Dardanelle Old Port Road Park Saturday: 10am - 2pm only
1598 Lock and Damn Road
Russellville, AR
N35.24487 W93.16067
Dardanelle Park is located off AR-7 (I-40 Exit 81), along the Arkansas River.
Go to Shelters 5 & 6. Here you will find the finishers'BBQ banquet for the MTF Poker Run From Hell. Locate either Alan Leduc (2003 Palmetto RambleChampion) or Jason Jonas (2003 Waltz Across Texas Champion), and follow their explicit instructions. It will take approximately 10 minutes to complete the task assigned. Once complete you will get a score. Have Alan or Jason sign your answer sheet and indicate your score. There might be some Q left for you if you behave.
Let's just say that the expression on each riders face while removing their gear and hearing, "Don't take your gear off just yet, you have to earn the bonus points." Followed by an explanation of the slow race.
Only the first names for the riders that claimed the bonus were recorded, but here is a guess as to the participants.
Vicki Johnston was the first to arrive and finished the slow race in 9 seconds. She finished the 48 hour rally in 14th place.
Ed Day finished the slow race in 4.34 seconds and the rally in 18th place.
Al Willis finished the slow race in -7 seconds. This must have destroyed his fortitude as he DNF'ed.
Rob Nye finished the slow race in 7.06 seconds and finished the rally in 12th place.
Michael Wesley finished the slow race in 18.7 seconds and finished the rally in 16th place.
John Atkinson finished the slow race in 41 seconds and was awarded a Flower Sniff'n momento as the MD slow race champ. He finished the rally in 10th place.
Dave DiCarlo finished the slow race in 39.81 seconds and finished the rally in 19th place.
Verne and Bonnie Hauck both had a -30 in the slow race. Hmmm. I know Vern rode up on the side walk. Not sure about Bonnie. At least they got there late enough to have BBQ. They finished the rally in 26 and 27 place.
Looks like the PRFH was a sucker bonus as our top finisher was 10th place. It was still a lot of fun. I don't remember which rider it was but he actually used his turn signals at each turn in the slow race.
Mile Burn'n
Most riders signed in and out each day, recording their odometer readings. Some felt that this violated sniffi'n rules and didn't. The total recorded mileage was 77,018 miles. That is a lot of mile burn'n for the 27 riders that recorded mileage. This is the total reported based upon the logs. Some folks did not record their odometer on the log sheet so the total is understated.
| | | | |
| --- | --- | --- | --- |
| Doug Woodall | 5406 | Tom Maiden | 1797 |
| Bo Griffin | 5260 | Alan Leduc | 2023 |
| Dennis Powell | 4980 | Bob Moore | 1475 |
| Dave Hinks | 5365 | Ron & Pat Brown | 1611 |
| Dave Shealy | 5395 | Mike Cobb | 1319 |
| Bob Elliott | 5448 | Terry & Marsha Braud | 1779 |
| Randy Chom | 5185 | Jim Fortner | 1587 |
| Ollie Bingeman | 4532 | Jason Jonas | 1813 |
| George Loudder | 2237 | Joy Trexler-Carr | 1831 |
| John Beck | 2456 | Paige Cobb | 1150 |
| Jeff Miller | 3689 | Lou Canick | 771 |
| Dave Nelson | 2096 | Randy Stallings | 553 |
| Doug James | 1028 | | |
Participants
Some of those in the list were not able to participate but supported the event by purchasing merchandise.

Alan Leduc
AL2000
New Castle, IN
David Hinks
DAVEH141
Lemont, IL
Lou Canick
Lou (RhinoStar)
Omaha, NE
In Memory of Vince Bruno (Jester)
Doug Woodall
jdwoodall
Gunter, TX
Don Kime
Saftnut(dkime2)
Dayton, OH
Barbara Kime
Saftnut(dkime2)
Dayton, OH
Mike Cobb
Cobber
Nashville, TN
Paige Cobb
Blue Ace
Nashville, TN
Terry Braud
TB
Gonzales, LA
Marsha Braud
---
Gonzales, LA
Bo Griffin
Griffin414
Prosper, TX
Dave Nelson
chfnelson
Bloomington, MN
Tom Maiden
Yogi
Chandler, AZ
David Shealey
Dshealey1
Jamul, CA
Jason Jonas
nankoweap
Irving, TX
Bob Elliott
Poorboy20
Atlanta, MI
Joy Trexler-Carr
---
Wyomissing, PA
Joyce Johnson
Babebr
Benton, KY
Steve Spurlock
Tugsznbiker (STEVE16187)
Pensacola, FL
John Beck
---
Glendale, AZ
Jim Parr
Kickapoojim
LaFarge, WI
Gregg Burger
Ultrafirebike
Oaklyn, NJ
Gene Sax
Driftr
Atkins, AR
Michelle Matheron
MMatheron
Columbus, OH
Roger Bliss
Wheeldog
Wasilla, AK
Randy Chom
Ranman
Clinton Twp., MI
Bob Moore
DragRacerBob
Fairdale, KY
George Loudder
g11
College Station, TX
Ron Waldrep
ronald1351
Smithville, TX
Bret Buswell
PBBUZZY
Trenton, MO
Ollie Bingaman
OBingaman
Manteca, CA
David Helmers
---
Mesquite, TX
Jerry Apfel
Jerry
Covington, TN
Gene Beaver
---
Greensboro, NC
Randy Stallings
StYd
Cocoa, FL
Ron Brown
RonFJR03
Burleson, TX
Pat Brown
---
Burleson, TX
Jim Fortner
Langly
Plano, TX
Don Braziel
Braz
Burleson, TX
Robert Zieroth
---
Wisconsin Rapids, WI
John Hargis
BigTexRider
Gun Barrel City, TX
JoAnn Hargis
---
Gun Barrel City, TX
BJ Ondo
BJOJR (Motorcyclerider)
Colorado Springs, CO
Jo Ondo
---
Colorado Springs, CO
Doug James
Partchase
Dallas, TX
Larry McCoy
lamarmccoy
Grand Prarie, TX
Martha McCoy
---
Grand Prarie, TX
Dennis Powell
Roadmap
Webster City, IA
Bruce Parker
Papydawg
Norman, OK
Jeff Miller
jeff
Waxahachie, TX
Randy Meyers
---
Arkansas
Tom Nichols
FLHRCL1
Texas
Bill Neese
Just Bill
Tennessee
Rich Chaffin
Just Rick
Tennessee
Joe Chambers
Memphis
Tennessee
The Banquet
The banquet was held at 11:00 a.m at Dardanelle Old Post Road Park, Shelters #5 & #6, 1598 Lock and Dam Road, Russellville, AR 72801, (479) 968-7962. GPS Coordinates for Shelters N35 14.692 W93 09.640. This was right on the Arkansas River and offered a great view. There was some concern that it might rain and we would be two groups trying to celebrate. The weather cooperated and the numbers were such that we only needed one shelter so things worked out for us.
Food: The meal was included in the registration fee and was catered by Old Post Bar-B-Que, 407 South Arkansas , Russellville, AR (479) 968-2421. It included:
Let's Just say that there was plenty of food. I asked for one of the folks camping close to us to pass word through the park that there was plenty. Instead they decided to take it all. Hmmm. Hope they enjoyed it..
About the MTF:
The Motorcycle Tourer's Forum ( http://forums.delphiforums.com/MCTourer/ ) began in July, 2001 with the goal of providing a friendly place where motorcycle riders could gather to discuss riding. The MTF now commonly has more than 200 posts per day and nearly 400 active members and many more members that lurk or post occasionally.
While Tourer's is an essential part of the Motorcycle Tourer's Forum name, we define touring very loosely. Day Riders, Weekend Trippers, Vacationers, Long Distance Tourers, and Endurance Riders all cohabitate. We respect each others riding styles and recognize that riding is riding. We recognize difference of opinion on many issues but allow no personal attacks or name calling.
The forum is non-brand specific and brand bashing is strictly prohibited. It doesn't matter what you ride, someone on the MTF probably does or has ridden it.
We encourage you to drop by the MTF to share your experiences and dreams.
---
Host Hotel
Best Western Inn
2326 North Arkansas Avenue
Russellville, Arkansas 72802
479-967-1000 Fax: 479-967-3586
I didn't here any complaints about the hotel so hopefully it was satisfactory. We wanted to set up an easel to post rides and they would not allow us to do so. We had tried to contact them to inquire about this before arriving but kept getting, "You will have to talk to the owner." Next time we will deal with this before blocking the rooms. We ended up using a little table tucked in a corner, with paper and clipboard.
Host Campgrounds
Dardanelle Old Post Road Park
1598 Lock and Dam Road
Russellville, AR 72801
(479) 968-5008
email: ceswl-rv@swl02.usace.army.mil
GPS Coordinates for Campground Entrance
N35 14.988 W93 09.409
Old Post Road Park is located 3 miles west of State Hwy 7 south in Russellville on State Hwy 7 south spur. It is overlooking the north bank of the Arkansas River at Dardanelle Lock & Dam. It is a Class A Park with flush toilets, showers, a trailer dump station, visitor protection, and new, level sites with water and electricity at each.
Note: Sites 15-25 will be closest to the shelters where the banquet will be held.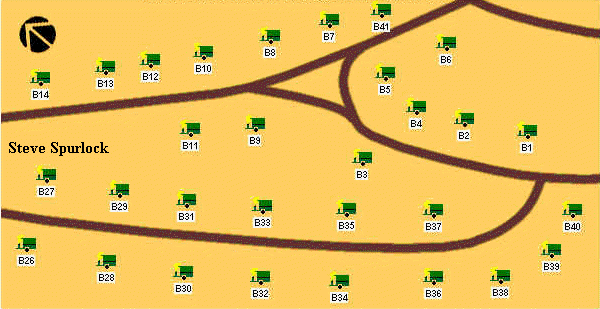 They allowed two tents or two pop up campers on each site, which saved some camping fees which were only $16.00 per day. Next time, I bet we reserve sites closer to the restrooms.