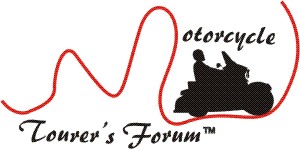 2003 Great White North Tour
Ride Coordinator: Neil Dolson (Dylien)

---
Sunday, June 15th – Thursday, June 19th, 2003


The GWN Tour 2003 was developed from conversations on the Motorcycle Tourers Forum. The ride started at Niagara Falls, Ontario, CANADA on Sunday June 15, 2003. It was a 5 day journey through Southern Ontario passing north of Lake Superior to Duluth, Minnesota, and ending in Mackinaw City, Michigan.
The ride made it's way through some of the most scenic areas Ontario has to offer as well as parts of Minnesota, Wisconsin and Michigan. The tour included a crossing of Lake Huron/Georgian Bay on the Ontario Northlands ferry M.S. CHI-CHEEMAUN.
The daily routes are listed below, however the riders were not necessarily riding together. This allowed for flexibility of riding styles and reasons for stopping. Evening stops were planned to allow for group socialising.
The riders who made this trip were:
Just Bill and LSS (Bill & Susan Neese)
Dylien (Neil Dolson)
Wings (Dawn Penning)
XGMAN(XGMAN2) (John Wynes)
boobiker (SANCHEZ97)
Dave Nelson (partial)
I have included a daily link showing typical June weather. The Streets & Trips link is also included for each day. The Canadian links are in Celcius. (Temp conversion is (C*9/5)+32=F). Rainfall conversion is (mm*0.03937)=inches. Don't worry about snowfall. It won't snow.................... I hope.



---
[ MTF Home ] [ Forum Guidelines ] [ MTF Merchandise ] [ MTF Calendar ]
[ MTF Tourer's Assistant ] [ MTF Emergency Tags ] [ MTF Commision Program ]
[ MTF Honors Page ] [ Touring Links ] [ Photo Album ] [ MTF Logos ]
[ MTF Business Cards ] [ MTF Gold Dealers ] [ MTF Past Events ]