---
Safety
In addition to requiring the use of a DOT approved helmet on all MTF rides, the MTF Flower Sniffin Committee strongly encourages the use of Motorcycle specific protective clothing and footwear while participating in any Flower Sniffin event. ATGATT reduces the severity of injuries in an accident and we want every participant in our events to be as safe as possible.
Also the MTF Flower Sniffin Committee strongly encourages each participant in our events to self assess their riding style, interests, need for breaks and riding skill level and to keep that assessment in mind when choosing a riding partner or small group (2-4 riders) to ride with at our events. Sharing the road with someone of similar interests and riding style not only makes the ride more enjoyable for you, but safer for everyone.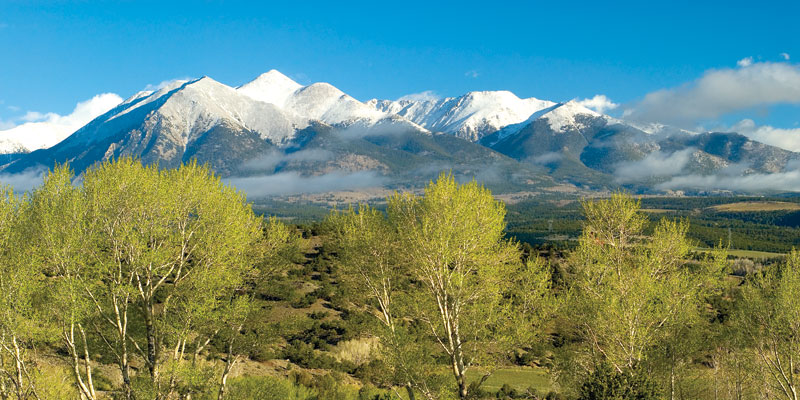 ---
Event Schedule & Information
Schedule
The ride is scheduled for Monday August 1st through Wednesday August 4th with nightly gatherings for meals at locations yet to be announced.
August 1st - Arrive - Dinner at 6:00 pm, location TBD
August 2nd, 3rd, & 4th - Local Rough Road Riding and Flower Sniffin'
August 5th (Thursday) - Depart for points unknown
Restaurants:
Jan's Restaurant, two blocks away, room in back for 70ish ppl.
Casa Del Sol
Coyote Cantina, 2 miles away, room for 70 people
T-Shirts
This year's Flower Sniffin' shirt is better than ever! It will be red 6.1 oz high quality cotton, with new 2010 Flower Sniffin' artwork as shown to the right and will be offered in both long and short sleeve, with or without a chest pocket. See registration page for pricing.

Local Points of Interest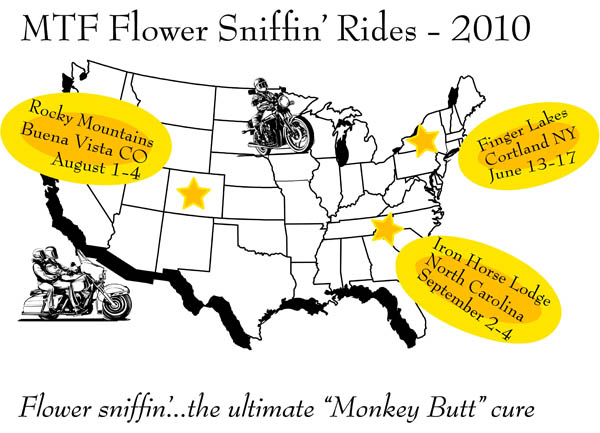 ---
Suggested Rides/Routes
Flower Sniffin' Routes (Map Source File)



Rough Roads Riders:
Buena Vista sits right in the heart of spectacular dual-sport riding country -- providing us the opportunity to offer multiple ride choices, depending on your type of bike or experience level. MTF rough roads rides are group led rides as our numbers are generally small, and will be guided by a MTF member familiar with the route. Details, planned routes, and further discussion can be found in the Buena Vista RRR - General Discussion thread on the forum.

---
Host Lodging
Great Western Sumac Lodge
428 Highway 24 South
PO Box 747
Buena Vista, Colorado 81211

Telephone: Phone: 719-395-8111 or Toll Fee: 888-786-2290

Website: Sumaclodge.com

Arrival Date: 8/01/2010
Checkout Date: 8/05/2010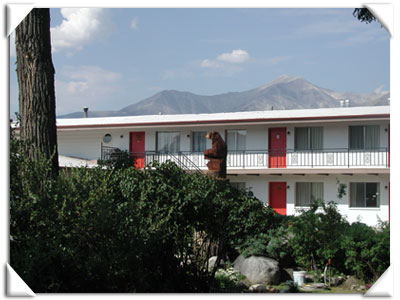 Rooms: total rms 28, beds 50

Rm Rates: Group rate

Single queen $71.10 / night...5 rms

Single King $73.80 / night...2 rms

Single Dbl $64.80 / night...3 rms

Two Dbl $79.20 / night...17 rms

Three Dbl $97.20 / night...1 rm


NOTE: Must call lodge and ask for the MTF group rate.

Last day for reservations to get group rate is July 1, 2010. After July 1st you will pay regular rates.