An MTF Tribute to our friend
Vince Bruno (Jester)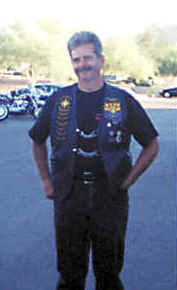 We can get a little insight about how Jester affected us by reading the following account from Tom "Yogi" Maiden.
I first met Vince when I joined the Phoenix Chapter of STAR Touring and Riding. Vince was an original Charter member of STAR and the Phoenix Chapter and served as the Phoenix Chapter Secretary from January of 2000 to January of 2002.
Let me say he lived up to his name.. He was always telling jokes. At the time neither of us realized how short of time we would have to get to know one another...As it turned out we had way too little.
Vince was always one to help wherever he could.. He served his country in the Air Force and he served his community as a Police officer then detective with the City of Phoenix Police force. He finished both careers as a decorated Veteran. He had just retired earlier in the year with Phoenix when he was diagnosed with cancer. Through the year he fought hard and was so sure he would beat it that he put his money down on the FJR while he was still recovering from his first round of surgeries. He started feeling better and completed his Saddlesore 1000. Unfortunately he passed from this place prior to receiving his paperwork from the IBA.
At his funeral you could tell that Vince was indeed loved as one side of the Chapel was filled with Phoenix Police officers and the other was filled with STAR Members We had all lost a true friend and brother.
Vince is survive by his wife Pegi whom he had affectionately nickname PITA and his daughter Lauren.
---
Here is Vinces' accounting of his SS1000.
My first SS1000!
My thanks to Yogi (Tom Maiden) and Kent (Ailes) for getting up early and witnessing my 4:45AM start from Phoenix, and to Kent and Vinh for witnessing my finish at 9:12PM back in Phoenix. Total miles on odometer was 1,104. I guess that's a Saddle Sore 1000 with a blister thrown in for insurance.
The ride from Phoenix north on I-17 was great until I got close to Flagstaff, then things chilled a bit. This was the first time I had the FJR1300 out at night and I was impressed with the lights but it is an easy bike to outrun the headlights, so I slowed it down a bit.
I brought two jackets with me, a Joe Rocket Ballistic 3.0, which I started off with, and a Joe Rocket Phoenix jacket and gloves when it got warmer. I wired the bike with a power outlet. It must have been in the forties when I got to Flagstaff, and a heated vest would have been welcome. I had to stop in Flagstaff for gas and documentation, and the warm water in a cruddy gas station bathroom was welcome.
By this time the sun was up and I hit a little rain in and out of Flagstaff, but I didn't get very wet. The fairing on the FJR did a better job than I expected. Stopped for gas again in Gallup and headed on to Albuquerque.
Stopped in Albuquerque for required gas documentation. I was about a half hour ahead of my anticipated schedule. A good thing, I went to the Village Inn restaurant to eat and the training crew was on. ("That's a very nice salad, but I ordered pancakes".) Still managed to get out of Albuquerque in an hour as planned.
East on I-40 and south on I-25 for the longest leg of my trip to Las Cruses, 220 miles. Had to stop for gas about ten miles short of my anticipated exit, I limped into Las Cruses 15 miles into my reserve. Probably could have made it to my intended exit, but didn't want to take any chances and got two dollars of gas and stopped at my intended exit for gas documentation. Got out of the Ballistic jacket and into the Phoenix, was really warm now.
South on I-25 and west on I-10 to Wilcox, arrived there on reserve also, about 190 miles. The FJR is probably capable of doing close to 230-240 miles on a tank, at 70mph. I was probably averaging about (edited, let's just say Vince liked riding with Kent and Yogi, they have a need for speed) with plenty of throttle left...scary. Fortunately, didn't see many LEOs patroling. Better yet, they didn't see me!
Had to stop for gas in Tucson for documentation and a call to Yogi to lot him know I would be back in Phoenix in a little over an hour. Yogi wasn't home and his cell phone went right into message so I figured he was tied up with something, so I called Kent and arranged a stop location closer to his (and my) house.
My impression of the Saddle Sore 1000 is that it is a fairly easy goal if you do your homework, prepare, stick to your plan but be flexible to change it for he unexpected, and have a comfortable bike to ride.
I am not sore this morning and Kent and Yogi's advice to take aspirin at gas stops helped a lot. I took Advil and plenty of water at each gas stop, supplemented by apple juice and a small box of raisins. (The donut is Las Cruses didn't count.)
Anyway, this long distance stuff can get addictive, just ask Yogi and Kent. We will be going to the Poker Run from Hell next May in Arkansas, who else wants to go?
From the IBA Site
Vincent Bruno Phoenix, AZ 09/28/02 Yamaha FJR1300 1,095
---
As Vince reported in his SS1000 report, he had signed up for the MTF Poker Run From Hell. As it turned out, he would not be able to attend. That is a shame, as he had obviously taken a liking to the long distance riding and would have had many miles with his friend Yogi, and would have given many others of us the opportunity to meet him personally.
Jester had 1036 visits to the MTF. His posts, while relatively few (87), were easily recognizable by his signature line, the mulicolored Jester shown below his picture above.
---
A few select comments from Jester's MTF Friends:
I always found him to be a very entertaining read. I'll miss him. Patrick


I remember Jester, and his signature line. Russ


Vinh and I witnessed for him and I will always remember the look of satisfaction on his face and the excitement in his voice when he pulled in for the final receipt. I know his wife will cherish the certificate as much as he would have. Kent


Still Sad! I know I still miss Jester and its been almost a year now.. Yogi
---
Thank you Jester for the time you shared with us.