An MTF Tribute to our friend
Porter West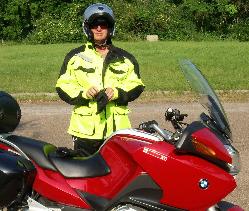 Porter was killed in an accident April 12, 2009 south of Atlanta, Texas when a car crossed over and struck him head-on while he was riding his Blue 2007 Suzuki DL-1000 Vstrom.
He loved that motorcycle; he loved life, and tried to live it to the fullest. He will be missed.
Porter left behind two sons, a daughter, his wife, two grandsons and a host of friends. He will be missed here at work and in the community

---
A few select comments from Porter's MTF Friends:
Many of you had met him along the road. He had a couple of Saddle Sore 1000 certificates under his belt and he participated in the MTF Border to Border ride last fall. He enjoyed meeting other enthusiasts and talked about it constantly. He attended the IBA Party last month in Jacksonville and met old friends and made new ones. He was still trying to live down the fuel overflow in the parking lot of the Ramada Inn. Which I of course wouldn't let him forget about. He was easy to poke fun at.

Porter worked with me. He was actually my mentor when I came to work here. He will be missed by his family, coworkers, and friends he made along the way. ...I will miss my friend. Day by day we will get through this, although i suppose there will always be a hole in my heart. That is my burden and I can bear it. I have no choice. - Lewis Stephens (Wanderer (km5bh)

I want to extend my sincere condolences to his family and friends. I first met Porter at the B2B in Laredo last year. Then I met him again at the IBA banquet in Jacksonville. I still recall him trying to get his motorcycle to run because he had accidently put some diesel in his tank. I spoke with him for quite awhile there and we had a great conversation about various things. He was jovial and upbeat despite having trouble with his cycle. He seemed to be a really great guy and I left knowing that I had gain another friend. I'm shocked by what happened and hope his family will know that he has developed many friends during his life because of his enthusiasm for motorcycling. I know that he will be missed - Charles (ABCMan)

Words don't begin to describe the emotions that each of us are feeling right now. God Speed to Porter, and our prayers go out to you and to his family. - Greg & Pat Blewett

this is devastating news!! My prayers and thoughts are with his family, his friends, and especially with you, as you were clearly a very special friend to him. I enjoyed Porter's company at several of the Texas RTE's and other events that I was privileged enough to have attended with him. His cheerful personality will be greatly missed. - Barb Smith (Runner(agmom98))

I remember standing in the parking lot in Jacksonville talking to Porter for over 2 hours the morning we all woke up and found that his bike had dumped several gals of gas onto the parking lot and witnessed his flame thrower. He was a great guy and will be missed. You and his family will be in my prayers. I am so sorry for y'alls loss .... - ki4idb