Official Obituary
Donnie Ray Braziel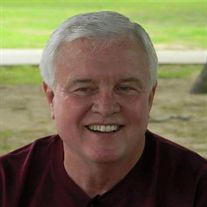 Donnie Ray Braziel, 65, passed away on July 11, 2015 in Kingston, Oklahoma. Graveside services will be held on Wednesday, July 15, 2015 at 10 am at Emerald Hills Memorial Park. Visitation with the family will be held on Tuesday, July 14, 2015 from 6-8 pm at Emerald Hills Funeral Home in Kennedale.

Donnie taught surgical technology and loved his students and wanted all of them to succeed in their studies and life. He was focused on his faith, family, career, and would ride his motorcycle whenever he could. He would ride his motorcycle often many miles away just to stop and eat lunch. Donnie also enjoyed old cars, his chickens, and the menís ski retreats with the Gorilla Skiers in Colorado. Donnie was a man of faith and even thru all his trials and tribulations, his faith never strayed. He enjoyed life and absolutely loved his grandchildren without a doubt. He will be deeply missed by his loving family and friends.

Donnie was preceded in death by his first wife, Barbara Jean Braziel; mother in-law, Carolyn Libby; and father in-law, Glenn Neeper. Survivors include his parents, R.A. and Lorene Braziel of Kingston, Oklahoma; wife, Kathy Braziel of Burleson; children, Courtney Sims and her husband, Shayne, of Wisconsin, Becky Whitworth and her husband, Jason, of Burleson, Amanda Candler of Burleson, Brandon Porter and his wife, Amber, of Burleson, Matthew Porter of Ft. Worth, and Andrew Porter of Bedford; grandchildren, Taylor, Hannah, Alyssa, Kaitlyn, Isaiah, Selene, Addi, and Rayne; brother, Roger Braziel and his wife, Kathy; niece and nephew, Jamie and Jerry Don Braziel; father in-laws, Greg Libby and Grady Kilgore; mother in-law, Roberta Neeper; and other numerous family and friends.